Mount your Cobot onto LTW's Patented Height Adjustable Table, the CoBase™.
If you're looking into purchasing a collaborative robot, you'll need an industrial table to mount it on. LTW's height adjustable CoBase™ completes the picture of collaboration, by adding ergonomics for people-friendly work. With the simple touch of a button, the heavy duty table (featuring a welded steel frame and high capacity actuators) can be adjusted to the individual's perfect working height.
Customization and Discounts available. Request a quick quote today from an LTW Ergonomics Professional to find your price and other industrial ergonomic products in your budget!
Request a Custom Quote!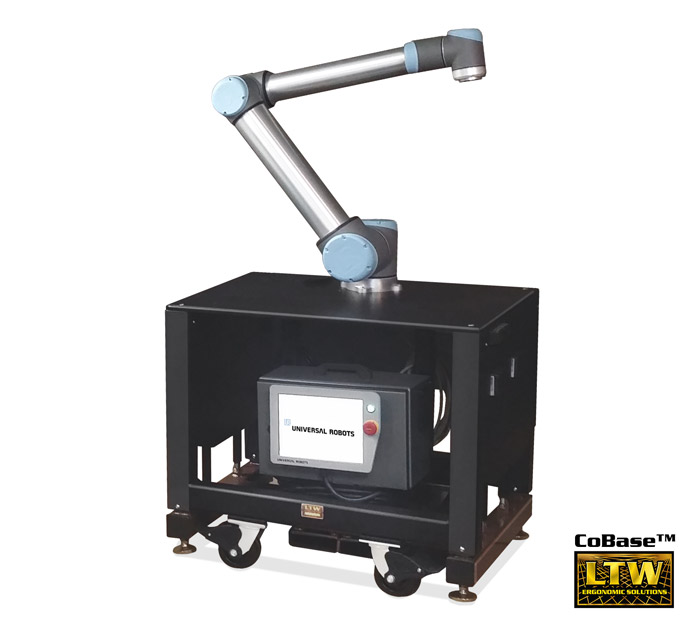 ADD ERGONOMICS TO ROBOTICS
With all that a collaborative robot is capable of, LTW wants to maximise the robot-human collaboration. Our CoBase™ gives the individual who interfaces with the robot a workspace that is accurate to their working height. This is critical in companies that have multiple people working at the station over time, especially in situations with multiple staff changeouts in a given day.
Mounting a collaborative robot onto the table is easy and fast. LTW has a CoBase™ design for your specific robot make and model, custom-engineered to have your robot bolted onto the tabletop's existing bolt hole pattern. Each table features a custom robot control box mounting system, keeping every component of your robot organized and on the mobile table.
Impressive Standard Features
---
Electric Actuator Motor Stroke: 8″ or 12″

Quiet Electric Screw Drive Lift System
Soft Touch Button Motor Controller

Dimensions: 36" W x 36" D to 120" W x 120" D
Minimum Lowered Height Options

With LC Option: 28″
Heights are based on using LTW's 12″ motor. When using LTW's 8″ motor, the above heights are 4″ shorter.
Your chosen height can be anything equal to or above the given minimum heights!

Welded Frame Construction: Heavy Duty 3″ x 7 Gauge Welded Tube Steel, with 1/2-13 tapped holes
Floor Contact: LC Option, including both 5″ Swivel Locking Casters & Floor Levelers
Central Static Load Lift Capacity: 2200lb (See our Weight Load Capacities page to find which table you need)
Color: Powder Coated Matte Black with Bronze (Optional Custom Colors)
Shipped Assembled and Ready to Use!
Customizable 
Options
---
View options in detail at our LTW Product Accessories Page!
Control Box Mount for Your Specific Collaborative Robot
Extra Heavy Duty Linear Actuators
Electrical Box Mounts
Fork Lift Tubes
The standard CoBase's tilting tabletop model, the E4H Tilt CoBase, has been reviewed by:
New to Cobots?
Professors Edward Colgate and Michael Peshkin of Northwestern University are the brains behind the idea of "cobots," a broad class of collaborative robots. Check out our Cobot article here! "Collaborative robots (also called co-bots) are designed to work alongside human workers, assisting them with a variety of tasks. Because co-bots are affordable, highly adaptable, and almost plug-and-play, small and medium-sized enterprises (SMEs) are eager to adopt this technology, and some analysts (myself included) expect this segment will see massive growth in the next few years.
"There are many reasons for the emergence of collaborative robots: companies are using them because they can be placed alongside humans in small-spaced electronics assembly lines, because they are affordable and easily trainable, and because they are flexible to handle short runs, repetitive and boring jobs, and ergonomically challenging tasks." – Frank Tobe

Robotics Distributors
The CoBase is sold both directly and through distribution networks at distributor pricing. If you are a robotics customer and already have a distributor, ask them about the CoBase! If they don't already sell CoBases, they can easily become a distributor by following the instructions linked below. If you don't have a distributor yet, simply fill out the form at the bottom of this page and we'll design a CoBase just for you!
If you are a robotics distributor, we'd love to help you sell more robots by offering your customers a height adjustable and industrial table that is designed specifically around each robot/cobot brand and model. Click here to apply to become an LTW CoBase Distributor!