LTW's Industrial and Electric Height-Adjustable E4H Tilt Ergonomic Table raises and tilts the work to you!
From robotics to welding, LTW E4H Tilt Ergonomic Tables are quickly becoming very popular in the industry due to their industrial strength combined with their unique Electric Tilting Top!
Custom E4H Tilt Table Quote
We have taken our patented E4H base and have not only made a fully customizable table to fit any work environment, but have designed in an electric drive tilting table top frame!  Now you can adjust the height and the angle of the products you are working on!  We can always customize these to fit your specific needs, so just let us know your specifications and we will make it happen for you.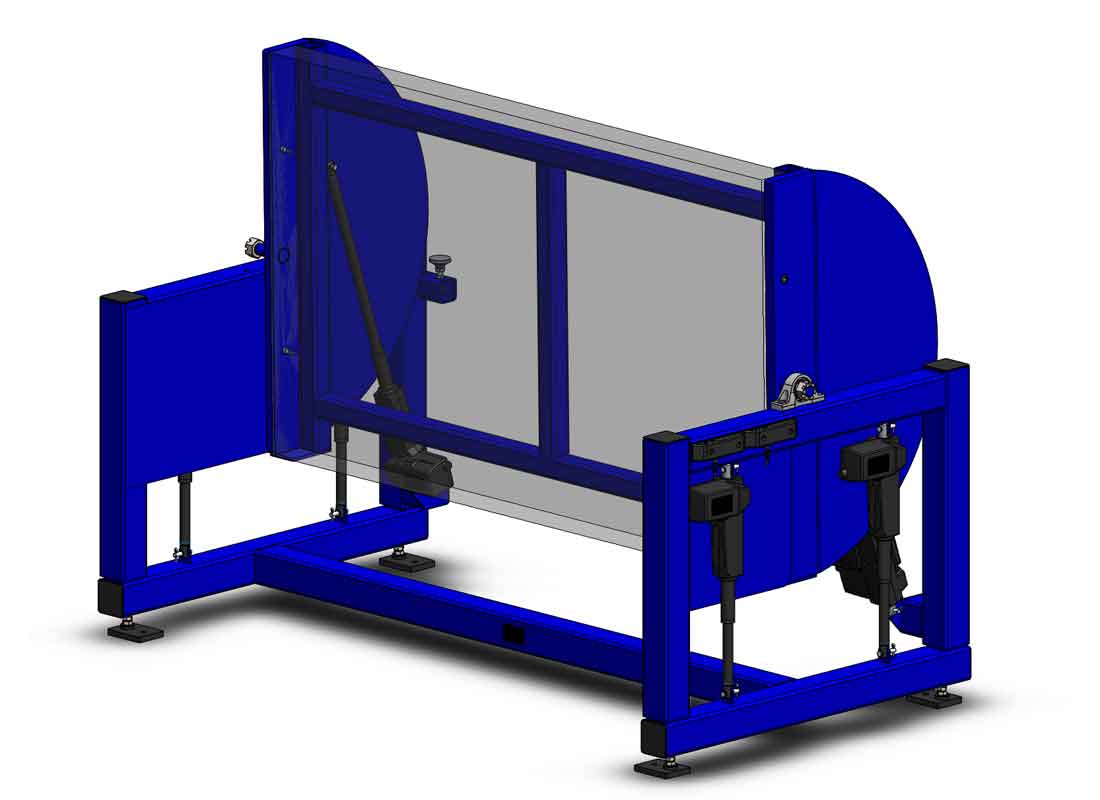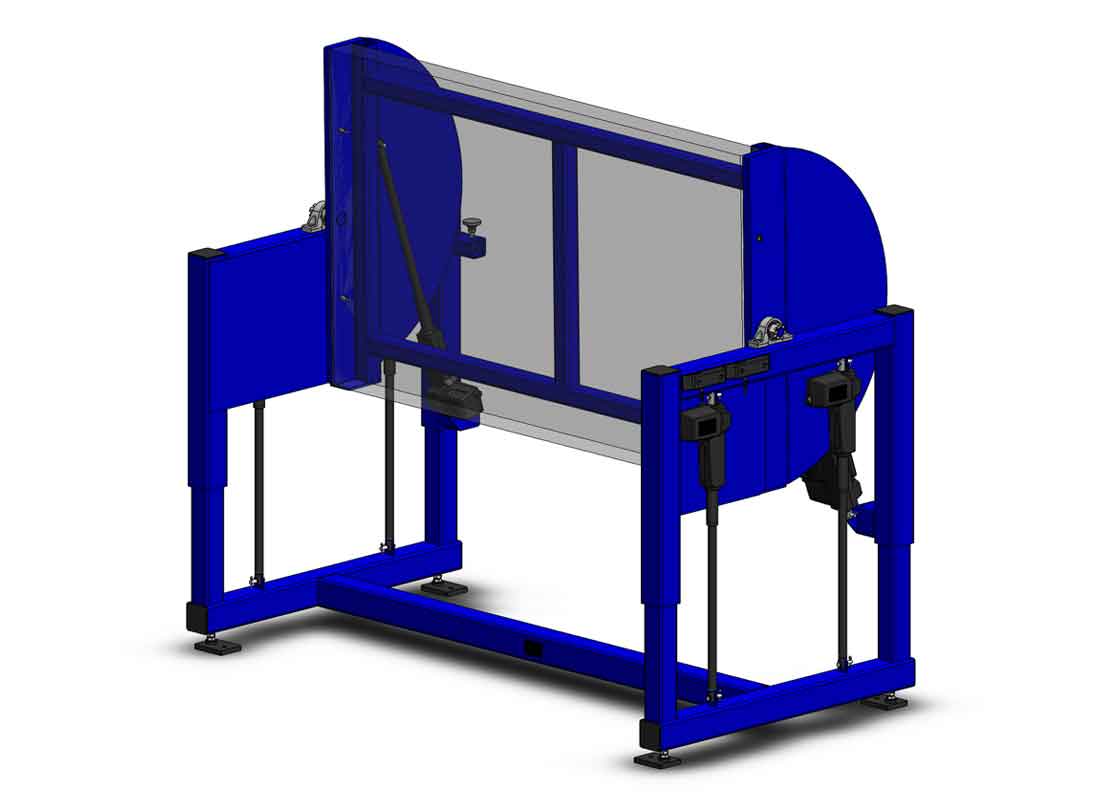 Impressive Standard Features
---
Quiet Electric Screw Drive Lift System
Soft Touch Button Motor Controller
Heavy Duty 2″ x 7 Gage Welded Square Tube Steel

    Optional 3″ Tube Steel Frames on our E4H

    E4H has 1/2-13 tapped holes
5″ Swivel Locking Casters or Floor Levelers

    E4H: Heavy Duty Casters or Floor Levelers

8″ or 12″ Stroke Lift Height
1200lbs + Lift Capacity
Powder Coated Signal Blue (Optional Custom Colors)
Shipped Assembled and Ready to Use!
From CAD design, to quote, to manufactured and at your facility in as little as 3-4 weeks!
Customizable

Options
---
Extra Heavy Duty Linear Actuators
Electrical Box Mounts
Overhead Rail Mounts
Fork Lift Tubes
Footrest Bar
Wood Table Top Mounts
Custom Low Rider Configuration
Table Tops

    Aluminum
    Steel
    Stainless Steel wrapped around a wood core
    Blanchard Ground Steel
    Maple Block
    Laminated
    ESD Laminated for Anti Static Applications

Patents: www.LTW1.com/patents
Table Applications
---
Companies use the E4H Tilt Table for countless reasons, a couple being robotics and welding. The table puts work at a more comfortable and healthy angle for the people that use it, saving them time and money.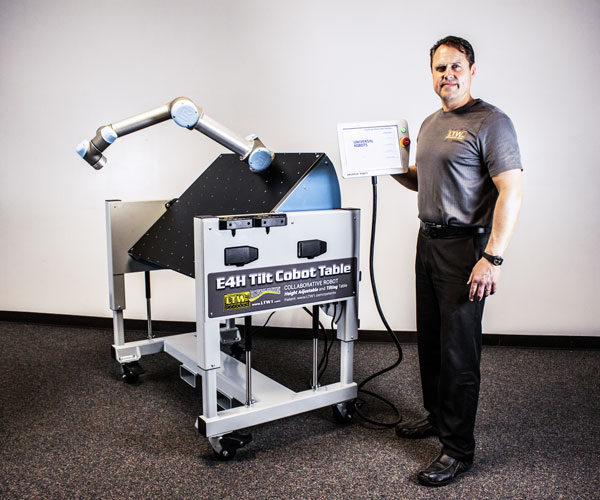 Expand your collaborative robot's capabilities by mounting it on a height adjustable and tilting table. See more about the E4H Tilt Cobot Table – CoBase™ here!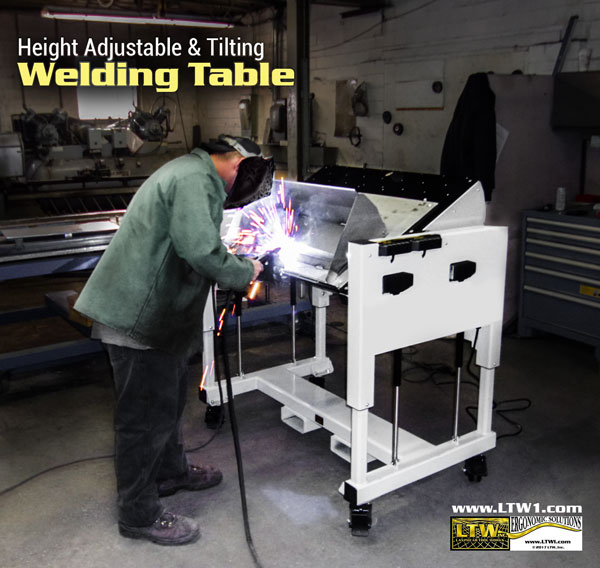 WELDING TABLE
With the patented E4H Tilt Table's height adjustability and tilting tabletop, eliminate back problems caused by continual welding at poor angles and heights. Static and non-tilt welding tables force the welder to hunch over a flat tabletop and conform to the height of the table. With LTW's welding table, people don't conform to the table – the table adjusts to each welder's specific needs.