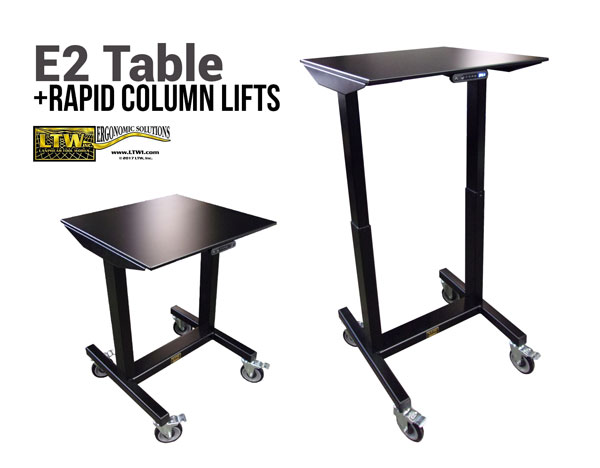 With column lifts, your table is able to lift up to 350lbs with a greater travel and higher speed than the actuators of the general E2 Table. While it can't lift as much as the E2 Table, the E2CL Column Lift Table lift capacity is plenty for most applications and goes the extra mile in travel and speed. People of different heights can separately use the same table without the threat of MSDs or other dangers of using static fixtures. These tables are ideal for the following applications: Assembly Fixtures, Work Benches, Assembly Tables, and Machine Bases.
LTW's E2 CL Column Lift Tables raise the work to you–fast!
---
E2 – COLUMN LIFTS
Total weight capacity: 350lbs
Greater travel distance at a higher speed, but lower weight capacity for your normal-duty applications

These E2 Series Tables come standard with the following impressive
features
:
Height Adjustability
Soft Touch Button Motor Controller
Heavy Duty 2″ x 7 Gage Welded Square Tube Steel

 Optional 3″ Tube Steel Frames on our EH2

Recessed Table Mounts with 5/16-18 tapped holes
5″ Swivel Locking Casters or Floor Levelers
8″ or 12″ Stroke Lift Height
Central Lift Capacity
Powder Coated Signal Blue (Optional Custom Colors)
Shipped Assembled and Ready to Use!
Options Include but not limited to:
Electrical Box Mounts
Overhead Rail Mounts
Fork Lift Tubes
Footrest Bar
Wood Table Top Mounts
Table Tops

Aluminum
Steel
Stainless Steel wrapped around a wood core
Blanchard Ground Steel
Maple Block
Laminated
ESD Laminated for Anti Static Applications
Interchangeable Battery Powered with Wall Mount Charger
Custom Low Rider Configuration
Make it into a Workstation or Assembly Bench
Levelers AND Casters with our E2LC
Patents: www.LTW1.com/patents
Let us help you raise your level of ergonomics today!
REQUEST A QUOTE!