LTW's RCT-RL (Rapid Change Technology-Rear Load) Assembly Machine System is changing the way work is done!
Traditionally, assembly machines and workbenches have been designed to be a dedicated, stand alone piece of equipment that ties up your capital investment not to mention your floor space.  Now, LTW combined their renowned industrial E2LC machine bases with their innovative light curtain mounting system, overhead frame system, and removable cart system to make for a height adjustable industrial workstation and cart solution that will save you time, money and floor space!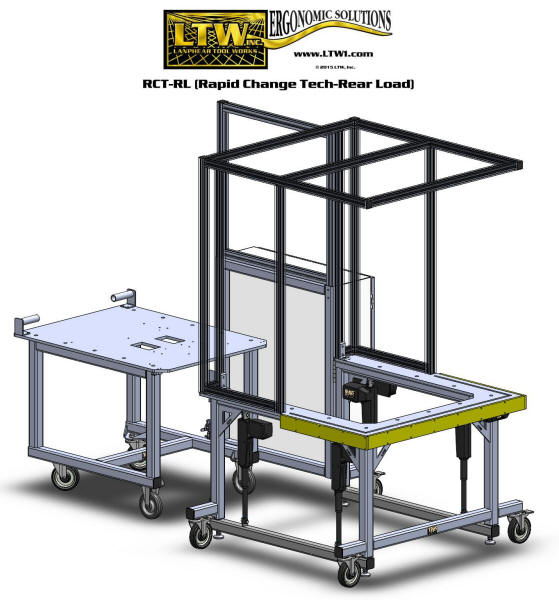 Proven out by a leading world manufacturer, this system provides machine/fixture builders and automation companies a foundation that they can easily customize and finish for rapid turn around times to their customers while increasing manufacturing capacity without adding more labor!
Click on pictures below for easier viewing



Product Video
Standard RCT-RL (Rapid Change Technology Rear-Load)
features 
include the following:
Quiet Electric motor driven lift system with a central static load capacity starting at 1200lbs and can be increased to over 2500lbs.
E2LC base has levelers and casters that allow the machine to be on levelers while in any raised position, and on casters for mobility while lowered.
Pre-machined light curtain mounts designed to work with Keyence GL-R48H front and GL-R24H side light curtains.
Structural Aluminum overhead guarding frame with adjustable top light curtain mounts.
Swinging back gate with strong hinges and caster to accommodate a large electrical box (box optional).
Rolling Fixture Cart docks into the back side of the base and is secured by closing the back gate. The cart then ergonomically raises up and down with the base.
Our RCT-RL Systems can be customized to fit your specific needs, which can include the following:
Custom Colors (Powder Coat or Wet Coat)
Custom machined fixture cart table top for rapid assembly at your facility
Various types of guard panels including Polycarbonate and Coated Wire Mesh
Ergo Mats
Accessory Arms with various mounting heads

Monitor Mount
Acro Bin Mount
Custom Tooling Shelves
Patents: www.LTW1.com/patents
Let us help you raise your level of ergonomics today!
REQUEST A QUOTE!