LTW E4 and E4H (Heavy Duty) Ergonomic Pillars are built to raise your existing heavy applications!
These ergonomic electronically adjustable height, heavy duty pillars are designed and built to handle some of the toughest industrial environments. The E4H (Heavy Duty) Ergo Pillars are made from Heavy Duty 7 Gage 3″ welded tube steel; these Ergo Pillars can handle just about anything you put on them!  They are made to bolt or be welded directly onto your existing machine frame.
Custom E4/E4H Ergo Pillars Quote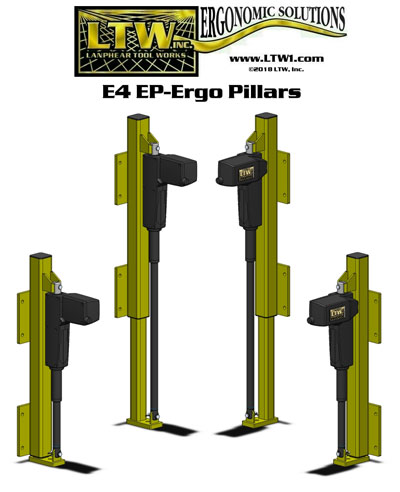 Each Ergo Pillars set comes with four fully assembled Pillar Lifts, one actuator controller, and one height adjustment hand switch.  These kits will provide you with everything you need to take an existing frame made from steel tubing or structural aluminum such as 80/20, FrameWorld, Bosch etc.,  and give it height adjustability to accommodate different height operators!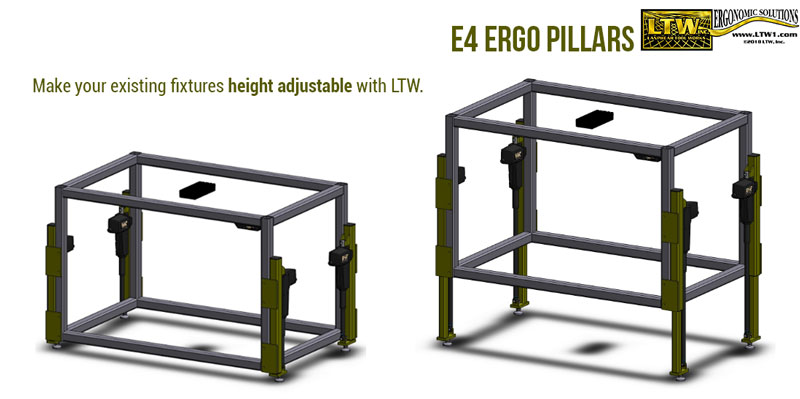 Impressive Standard Features
---
E4 – 2″ x 7 Gage Welded Square Tube Steel

Weight Capacity

: 500lbs per standard duty column; 2000lbs total

E4H – Heavy Duty 3″ x 7 Gage Welded Square Tube Steel

Weight Capacity

: 1200lbs per heavy duty column; 4800 lbs total

Quiet Electric Screw Drive Lift System
Soft Touch Button Motor Controller
Recessed Table Mounts with 1/2-13 tapped holes
8″ or 12″ Stroke Lift Height
Central Static Load Lift Capacity
Powder Coated Signal Blue (Optional Custom Colors)
Shipped Assembled and Ready to bolt or weld onto your existing frames!
Customizable
Options
---
E6/E6H (6 Actuators per Ergo Pillars Kit)
Floor levelers with anchor mounting holes
Custom Mounting Flanges to fit your existing frame
Downloadable Product Prints
---
Click the images below to view and download LTW's PDF prints. The information in these prints are provided for reference only. Details