These E1 Ergonomic and Height Adjustable Tables are a perfect fit for your smaller fixtures, tables, and workstations/ workbenches.
---
Custom E1 Table Quote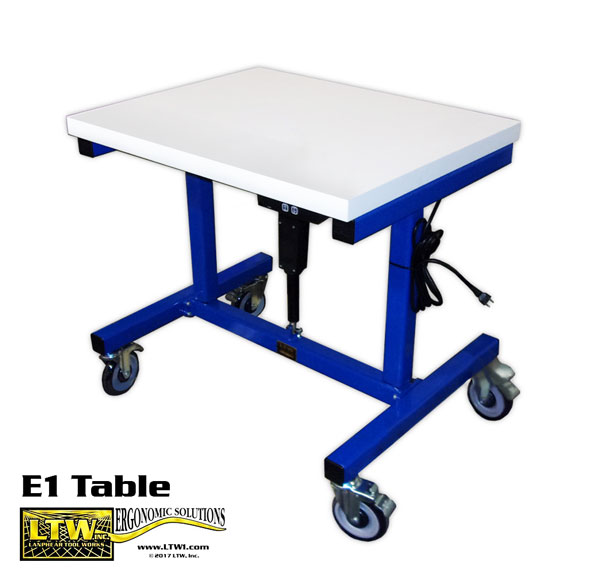 Industrial Height Adjustable Table
---
Utilizing a central electric screw drive system and with a table top of your choice, these cost effective units provide strength and stability for compact applications. These tables can be easily moved around your company on 5″ Swivel Locking Casters. The heavy duty welded steel tube frame, which rides on four double locking casters, is ideal for small footprint assembly tables.
Impressive Standard Features
---
Quiet Electric Screw Drive Lift System
Soft Touch Button Motor Controller
Heavy Duty 2″ x 7 Gage Welded Square Tube Steel
Flanged Table Mounts with 5/16-18 tapped holes
5″ Swivel Locking Casters or Floor Levelers
8″ or 12″ Stroke Lift Height
550lb Central Static Load Lift Capacity (See our Weight Load Capacities page to find which table you need)
Powder Coated Signal Blue (Optional Custom Colors)
Shipped Assembled and Ready to Use!
Customizable

Options
---
Electrical Box Mounts
Fork Lift Tubes
Overhead Rail Mounts
Footrest Bar
Table Tops

Aluminum
Steel
Stainless Steel wrapped around a wood core
Blanchard Ground Steel
Maple Block
Laminated

ESD Laminated for Anti Static Applications
Interchangeable Battery Powered with Wall Mount Charger
Custom Low Rider Configuration
 Let us help you raise your level of ergonomics today!
REQUEST A QUOTE!