Does your company struggle with moving large, heavy metal bars? Our Bar Material Cart solves this problem.
---
Custom E4 Bar Cart Quote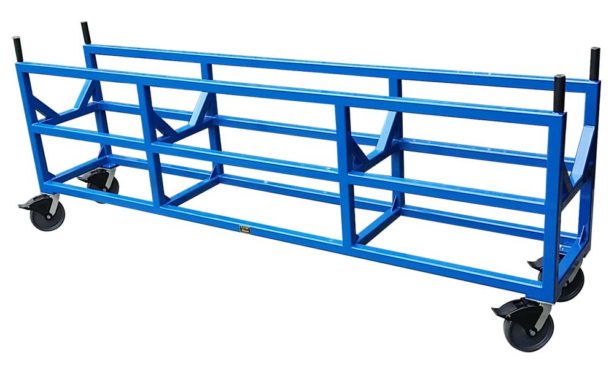 This cart is easily movable with four casters. Just like the rest of our ergonomic products, it can feature height adjustability with the touch of a button by four actuators. Your company can easily set or slide heavy bars onto the cart with a fork lift or other machines, then pull or push the cart and its contents across the plant floor.
The E4 Bar Material Cart is an industrial solution to moving heavy bars or other long materials/fixtures.
Here at LTW, we pride ourselves in offering your company options for 100% customer customization! Contact our trained staff with your specific needs and they will work with you until you have exactly what your company wants and needs!
Options include but are not limited to:
Size
Colors
Materials
Casters or Floor Levelers
8″ or 12″ Stroke Lift Height
And Much More!
When you buy E4 Bar Material Carts from LTW, they will arrive at your company assembled and ready to use.
Request a quote today!