LTW's E2 Ergonomic Adjustable Height Industrial Fixture & Machine Tables raise the work to you!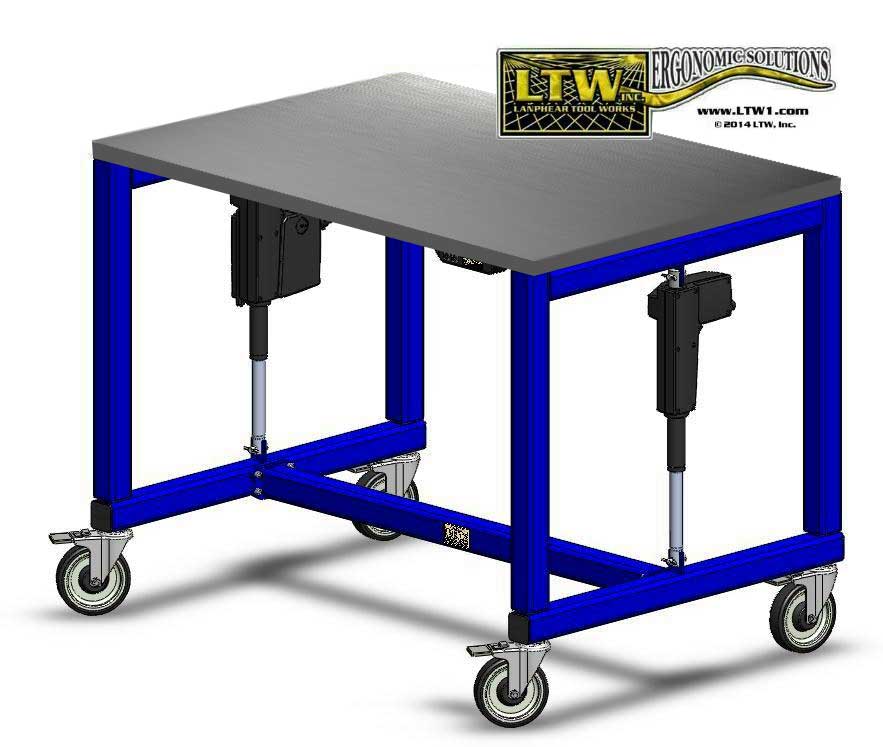 Multiple people from different shifts can't work comfortably at a single fixed height table; it would be too tall for some and too short for others. The E2 Series Tables combine ergonomics with simplicity to create a cost effective adjustable height solution.  This multipurpose table can accommodate various applications on its heavy-duty welded square tube steel frame.  These tables are ideal for the following applications: Assembly Fixtures, Work Benches, Assembly Tables, and Machine Bases.
These E2 Series Tables come standard with the following impressive
features
:
Quiet Electric Screw Drive Lift System
Soft Touch Button Motor Controller
Heavy Duty 2″ x 7 Gage Welded Square Tube Steel

 Optional 3″ Tube Steel Frames on our EH2

Recessed Table Mounts with 5/16-18 tapped holes
5″ Swivel Locking Casters or Floor Levelers
8″ or 12″ Stroke Lift Height
1100lb + Lift Capacity
Powder Coated Signal Blue (Optional Custom Colors)
Shipped Assembled and Ready to Use!
Options Include but not limited to:
Electrical Box Mounts
Overhead Rail Mounts
Fork Lift Tubes
Footrest Bar
Wood Table Top Mounts
Table Tops

Aluminum
Steel
Stainless Steel wrapped around a wood core
Blanchard Ground Steel
Maple Block
Laminated
ESD Laminated for Anti Static Applications
Interchangeable Battery Powered with Wall Mount Charger
Custom Low Rider Configuration
Make it into a Workstation or Assembly Bench
Have Levelers and Casters by making it into our E2LC
Optional 3″ Tube Steel Frames on our E2H
Patents: www.LTW1.com/patents
Let us help you raise your level of ergonomics today!
REQUEST A QUOTE!