Recently, LTW Ergonomic Solutions had the opportunity to be featured in the Assembly Magazine's 2017 May cover report.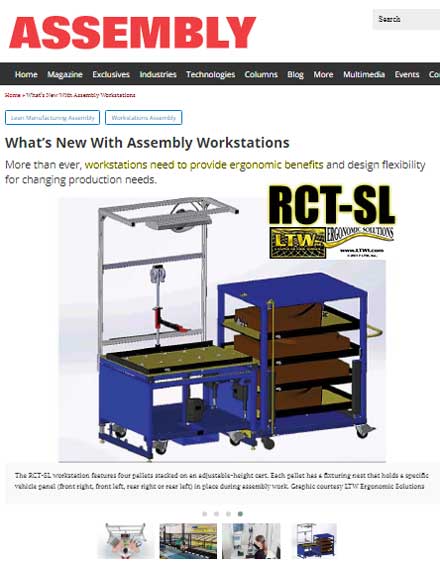 Specifically discussed was the RCT-SL (Rapid Change Technology- Side Load) system. 

Senior editor of ASSEMBLY Jim Camillo writes,
"Even though the Great Recession has passed, manufacturers in many industries are still adjusting to the reality of a downsized market struggling to get back to its glory days. This is particularly true for some automotive Tier 1 suppliers, who have had to master the art of production flexibility to stay competitive. One such supplier makes service parts for door panels of a vehicle model that was discontinued a couple years ago.
"'Because the demand for parts has lessened over time, the company needed to remove a full assembly line and use the space for other work,' explains John Lanphear, founder and president of LTW Ergonomic Solutions Inc., which has made adjustable- and fixed-height industrial workstations and workbenches since 1999. 'Last year, we were asked to build a custom workstation that, in essence, replaces the old assembly line and helps workers efficiently assemble small batches (five to 10 pieces) of replacement parts.'
"Within a couple months, LTW developed a durable adjustable-height workstation with advanced capabilities based on its patented standard model. Made of 2-inch-square, 7-guage welded tube steel, the station measures 48 by 40 by 86 inches and comes equipped with a touchbutton motor controller and five swivel-locking casters. The laminated work surface is 1.5 inches thick.
"The surface tilts

, raises up to 12 inches, and has a 1,100-pound lift capacity.
"Lanphear says the workstation's most unique feature, however, are four pallets stacked on an adjustable-height cart. Each pallet has a fixturing nest that holds a specific vehicle panel (front right, front left, rear right or rear left) in place. When assembly work is required on a specific panel, that pallet is slid onto the work surface. After work is completed, the pallet is moved back in place on the cart.
PRODUCT VIDEO
"Since installing the workstation, the Tier 1 supplier has had no problem keeping up with part orders, and is using the extra floor space for other production work. It is also considering installing similar workstations at more plants. Meanwhile, Lanphear named the workstation the RCT-SL (rapid change technology—side load), made it a standard product and is marketing it and a smaller version to manufacturers in all industries.
"Although workstations have always been essential for manual assembly, inspection and test operations, their importance was often overlooked. This is no longer the case, due to concerns about worker ergonomics (a movement begun in the late 1980s) and the increasing need for flexible manufacturing. A workstation that fails to meet both of these challenges daily is never a good investment—regardless of whether it has a low price or lots of features."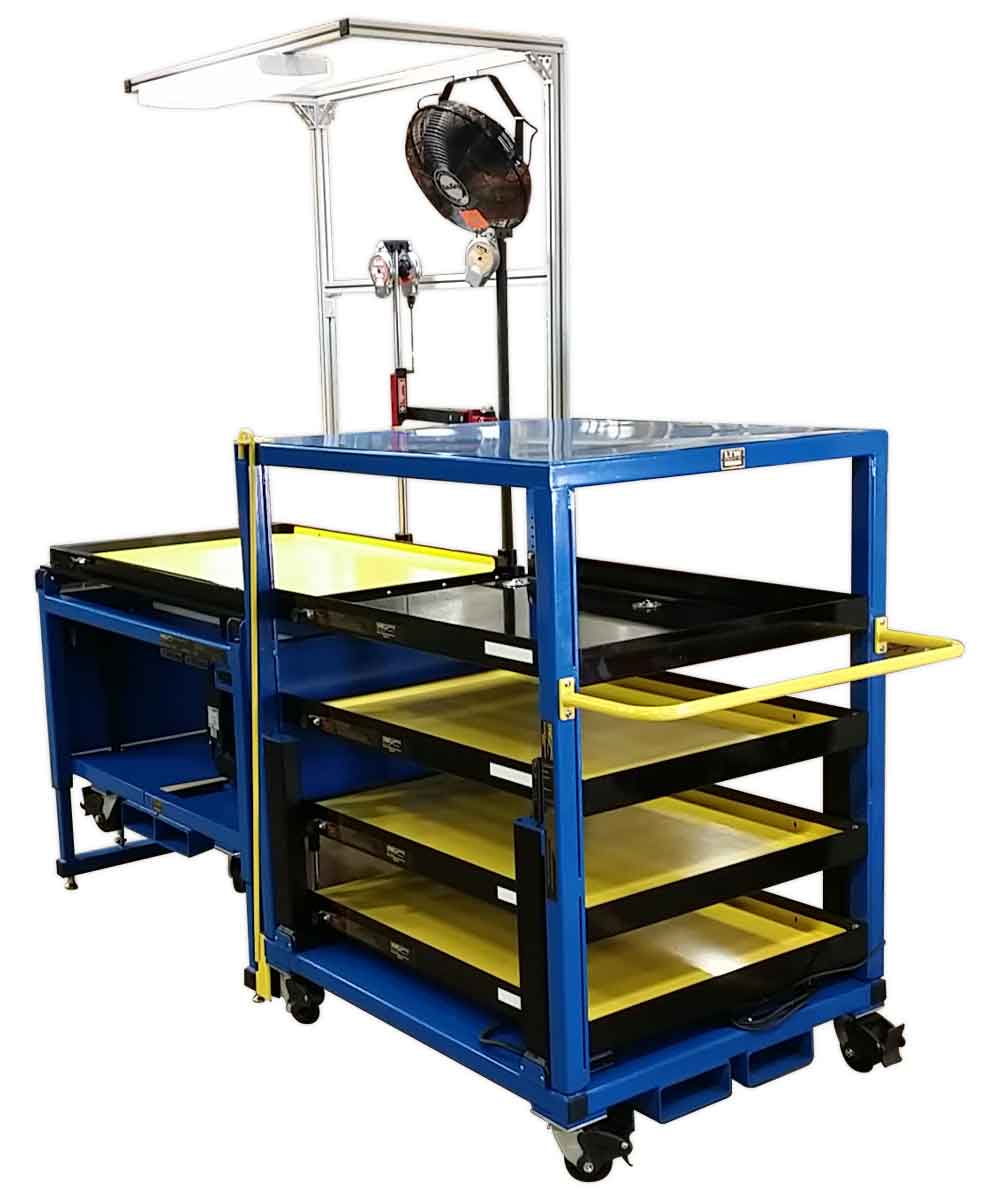 See how the RCT-SL can change your workplace today.
RCT-SL