LTW can design and create a custom operator platform
specifically for your special equipment and needs!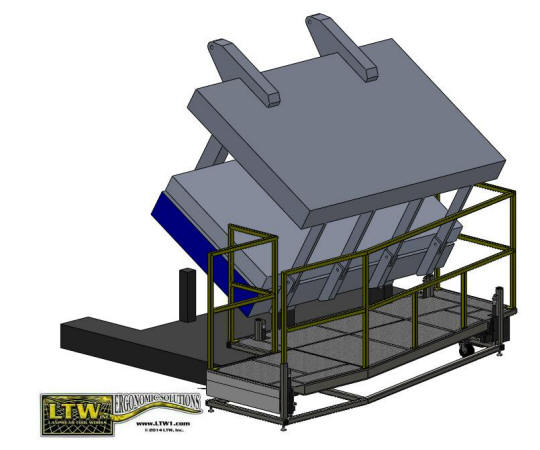 Most of our products center around adjusting the work height to the operator, but for large assembly lines and machinery that is not feasible.  LTW has answered this dilemma by introducing our new line of Ergonomic Operator Platforms!
Click on pictures below for easier viewing



LTW, Inc. Custom Operator Platform
LTW, Inc. Custom Operator Platform
LTW, Inc. Custom Operator Platform
These operator platforms simply and effortlessly raise the operator to the machine to optimize the ergonomics of the process.  We can customize these platforms to fit your exact machinery and needs.
These ergonomic electronically adjustable height operator platforms are designed and built to handle some of the toughest industrial environments.
Our MTO (Made To Order) Ergo Operator Platforms are designed around your custom needs.  Just give us a call and let our engineering team work with you to accommodate your equipment, processes, and operators.
---
Standard Features
Sized to fit your needs, and custom shapes designed just for you are just a call away!
Heavy Duty 2″ x 7 Gage welded square tube steel
Floor Levelers and/or 5″ Swivel Locking Casters (Optional 2 rigid)
8″ or 12″ of stroke Lift Height
1000lb Lift Capacity (Can increase to 4000lbs+)
1/8″ Steel Floor with optional Ergo Matting
Painted to your standards
Shipped Assembled and ready to use!
---
When you choose LTW, you choose custom. Your company gets to sit in the driver's seat and choose from options like size, color, and addons. If none of our existing products will fit your needs, we can work with you to create a new product that does! Contact us today to start the creative process!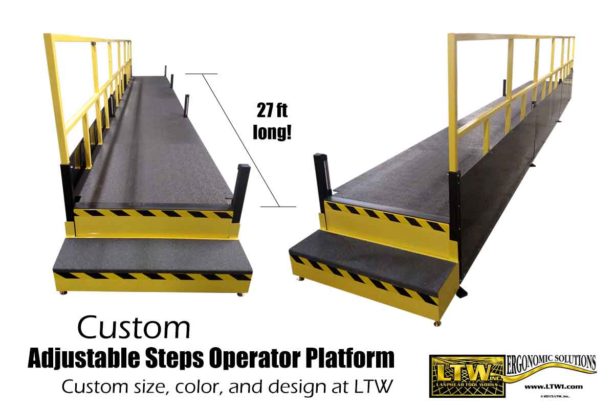 ---
Let us help you raise your level of ergonomics today!
REQUEST A QUOTE!